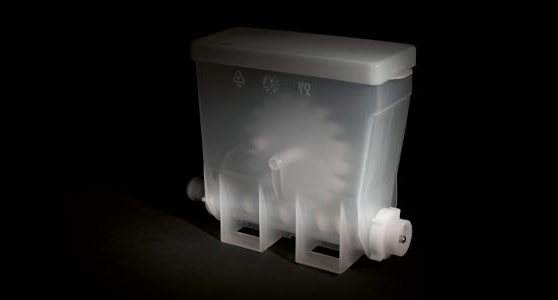 SOLUBLE PRODUCTS CANISTERS
Kenta canisters are realized to satisfy all the needs in the dispensing of soluble products available on the market.
Typical applications:
Cold and warm soft drinks vending machines, vending and ho.re.ca. sector Canisters
The canisters
The canisters are made of neutral colour high density polyethylene in compliance with the regulations concerning food-grade products. They are available in different shapes and heights to offer the customer a wide range of capacities and sizes, with a plastic screw with predetermined pitch, springs for the shaking of the product to enable a perfect emptying of the container also from side residues. Each canister is provided with a special toothed coupling, offered in different lengths, for the gearmotor connection (see GEARMOTORS catalogue).
These canisters are available in transparent or white colour.
Accessories
The pipes, made of neutral colour food-grade polypropylene and available in different lengths, enable to dispense the product with different positions and flow solutions.